We love to celebrate in our family… any excuse for a gathering and we will all get together and start planning the food. Easter is quickly becoming as commercial as Christmas, and I don't see this as a bad thing. We aren't religious as a family but having been bought up in a multi cultural city I think it's important to acknowledge all cultures, (we have also enjoyed celebrating Chinese New Year, Diwali and Pride recently) – an easy way to learn about others is to join in with festivities and it's also an opportunity to spend quality time together as a family.
This bank holiday weekend we have done so much I'm going to have to split this up in to several blog posts – we kicked things off with a trip to a local children's farm "Hatton Country World" on Good Friday – a glorious day spent meeting lots of baby animals, and running around in the sunshine.
On Saturday we went to a not so festively themed "Ice Age" walk at the Botanical Gardens for some quality time with Nanny. This is another beautiful local attraction we have been visiting as a family since I was a child and it was lovely to see Arlo running around outdoors and marvelling at all the new sights.
On Sunday I hosted the egg hunt to end all egg hunts, with four children aged 1-6 years I knew we had to try and make it fun (and fair) for them all. I also wanted to make them earn their treats, and focus more on fun and festivities than the sweets and chocolate.
I purchased a fabulous little set of clue cards from an Instagram store A little bit vintage and the simple rhyming clues led the kids to locations all around the house.
The first card was a welcome and I attached this to my front door wreath, and with personalised egg hunt bags left in the front garden, and the clue led them to "the place you leave your shoes" and here they each had a little parcel to open (bunny ears, tails and bow ties).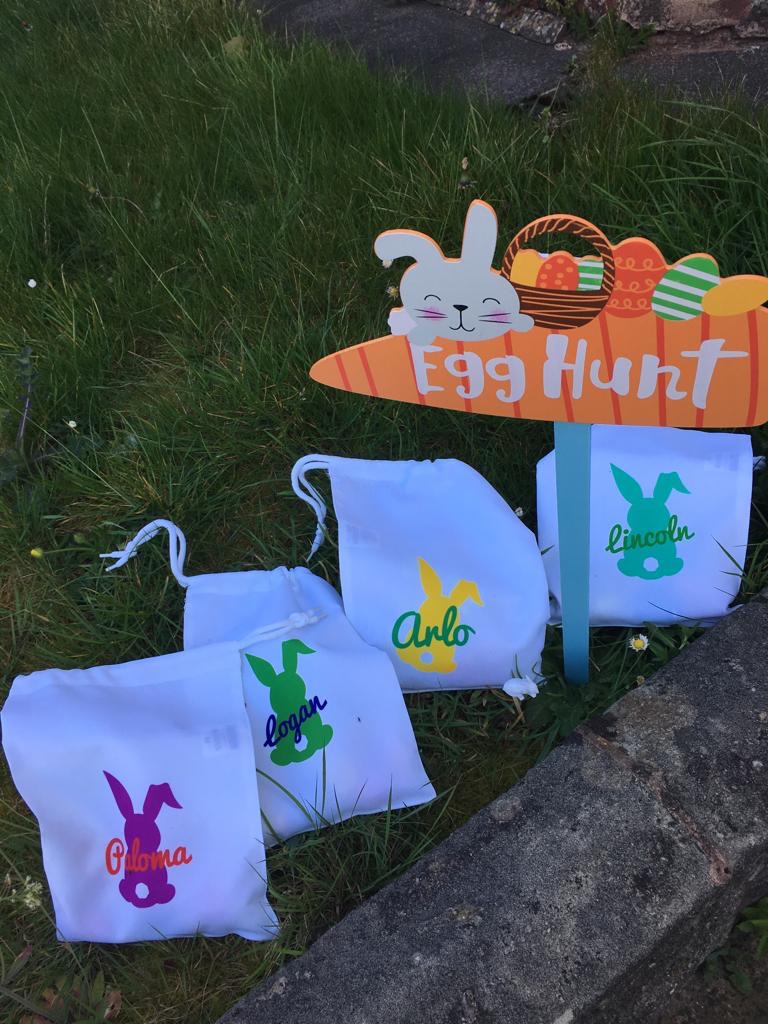 The clues then them to "the place you cook" – of course Logan the eldest ran straight to the kitchen….. however we predicted this would happen and so actually the treats were hidden inside the play kitchen, and Logan quickly realised he had to pay attention, taking on the role of "clue reader" like a pro!
The first challenge to complete for the Easter bunny was to decorate some real chocolate Easter Eggs. Surprisingly the kids all completed this task with their chocolate eggs intact, keen to earn the next clue card.
 "Head to where you brush your teeth" – the kids all rushed upstairs to the bathroom, and of course I had to include one messy play activity so I had pre filled the kitchen sink with shaving foam…. they had to dig in, fetch all of the eggs and count them correctly for their next clue, which led them downstairs to the dining room table.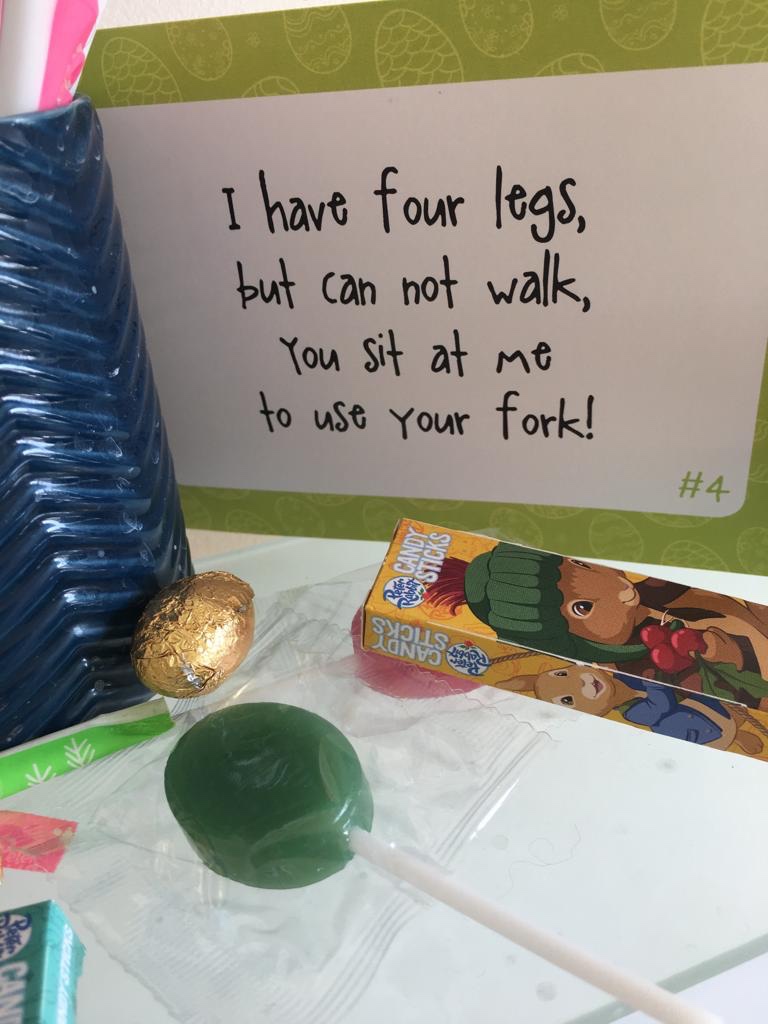 Here they all had to paint a wooden bird box, and again they all rolled their sleeves up to get stuck in, really focusing on the activity before proudly placing their finished items in the garden to dry and getting the next clue, which led them to "where you fetch the mail"
We thought it was time to get some treats out now and so the kids all got a jellybean filled carrot shape along with a brand new nature trail clipboard and the next clue which sent them to under the sofa to find some bubble wands (a firm family favourite) and a clue card which told them to head outside.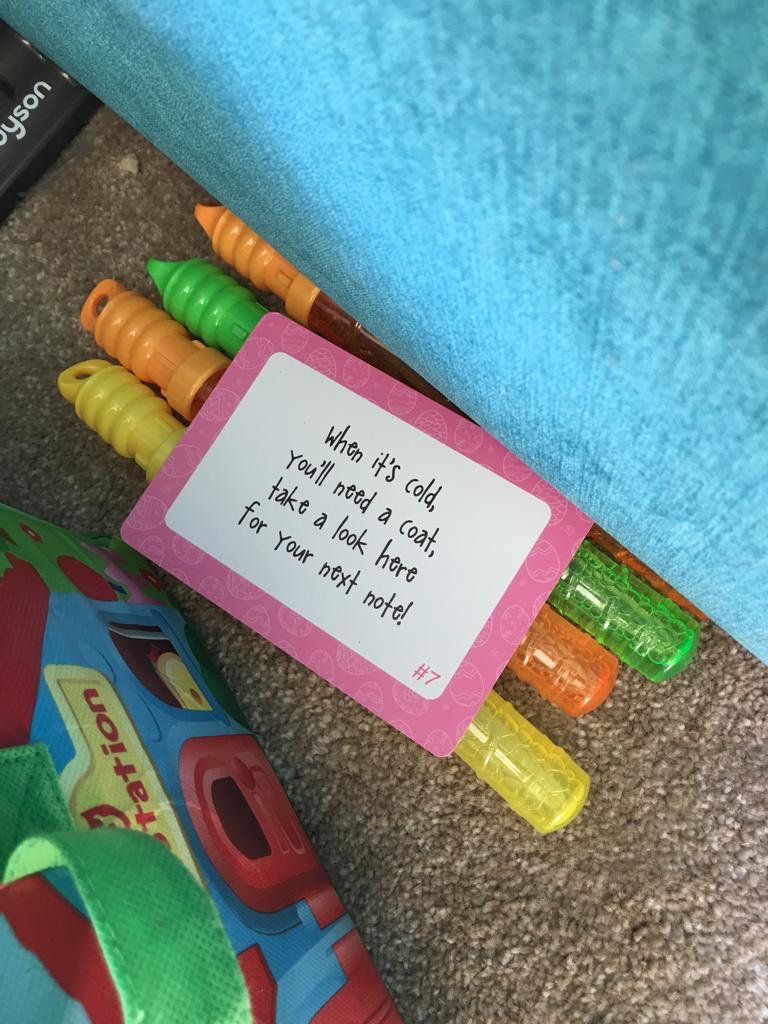 We stopped for a refreshment break before getting back to work for the Easter Bunny….. and the next challenge was to plant some sunflower seeds.
They did this task really well together, all getting stuck in and helping share the tools and fill each other's plant pots with soil and so they earn their next clue pretty quickly – which led them to my bookshelf with a basket filled with strange items…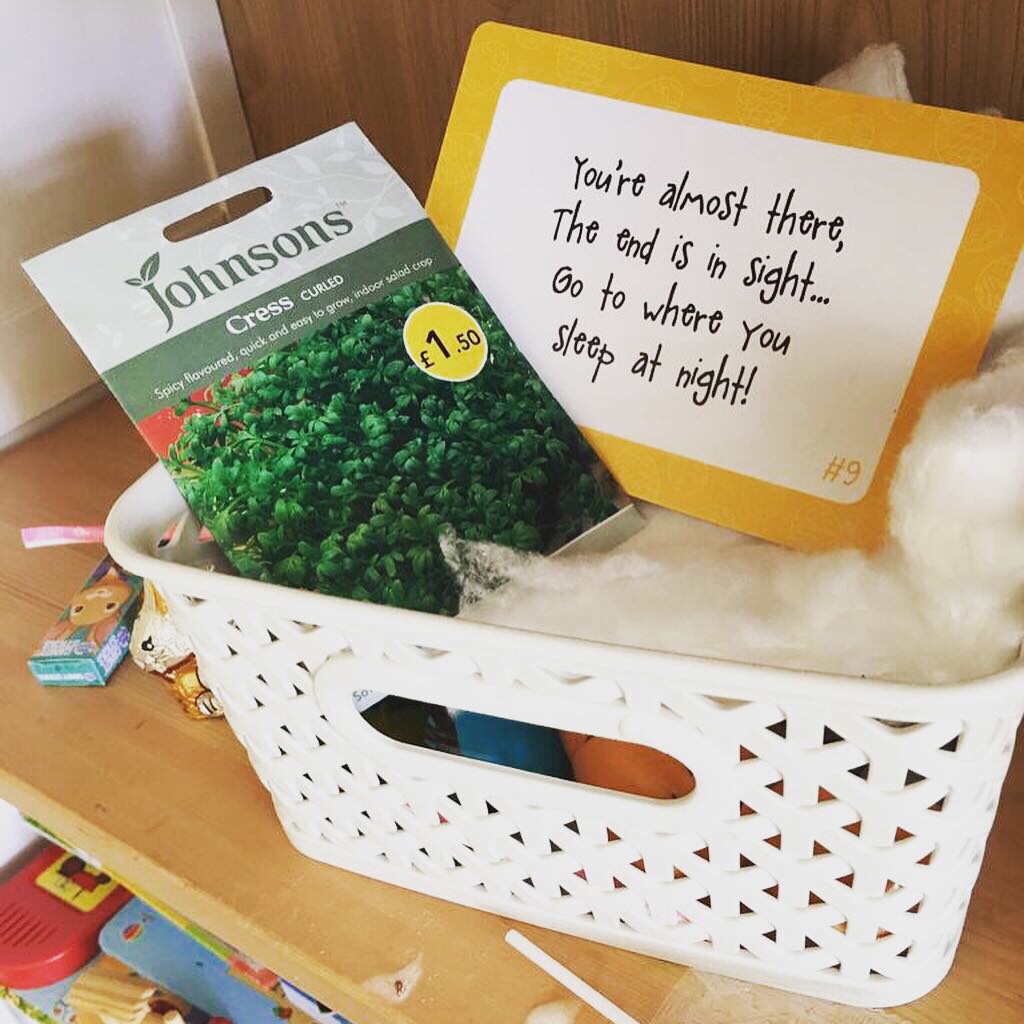 They went back outside and here it was revealed that they were to use the items in the basket to make cress hair for potato heads. This one delighted Lincoln because I bought curly cress to match his hair.
With our bird boxes, plant pots and potato heads all proudly on display after a couple hours of activity we felt like they really had earned their rewards… and so the final clue led them all charging upstairs to find the "good stuff"
They all received a personalised "champion egg hunter" top and more chocolate than they could carry – you'd think that this would spoilt their appetites, but not this family – with the hot weather we decided to break with tradition, cancel the formal roast and set up a buffet style array of food.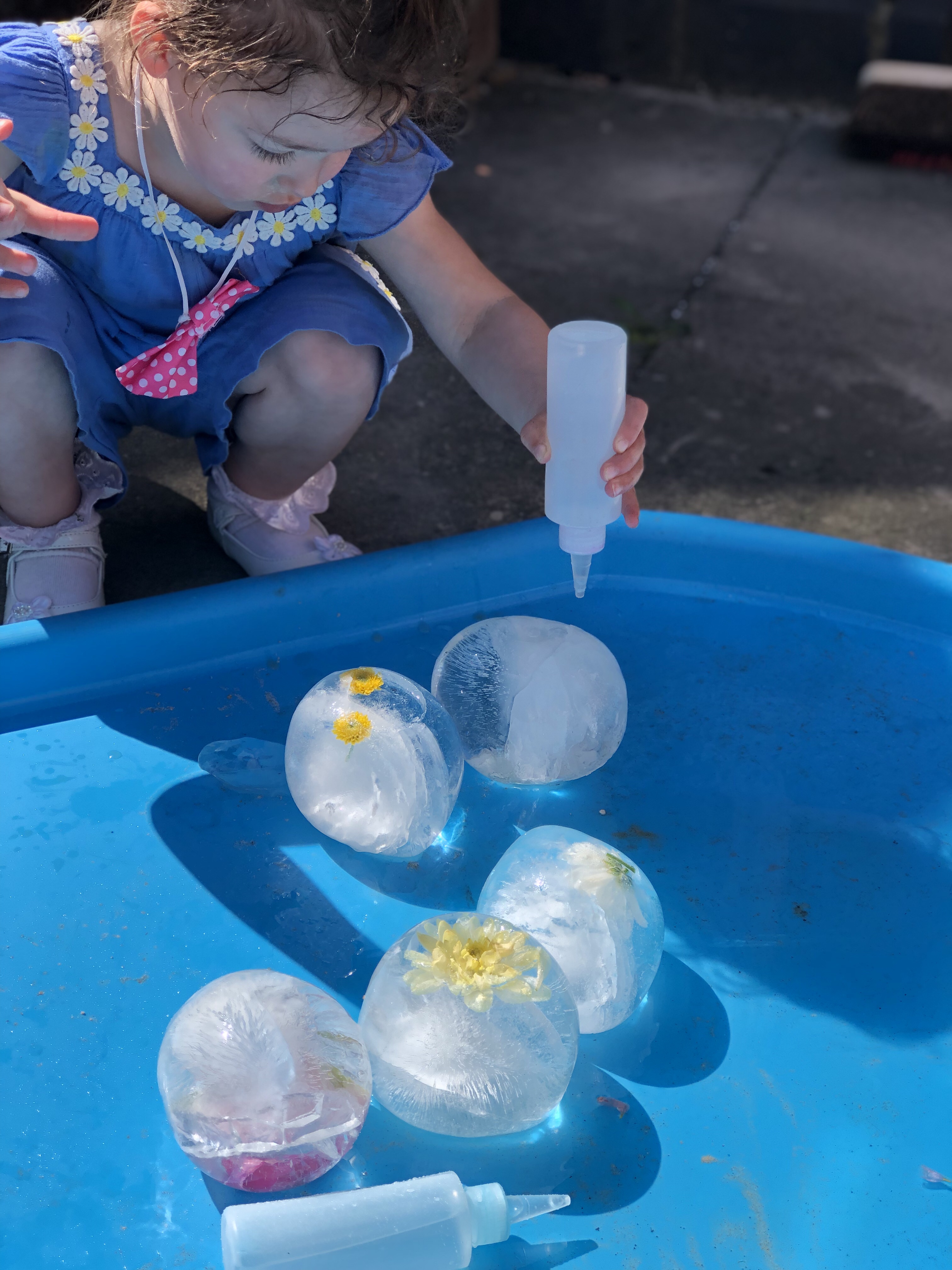 We then went back to the garden to enjoy the sunshine with some ice excavation, the older boys enjoyed a good old fashioned water balloon fight, Arlo splashed around in his tuff tray and Paloma bought her play doh outside to make the most of the sunshine.
The egg hunt champions 2019!