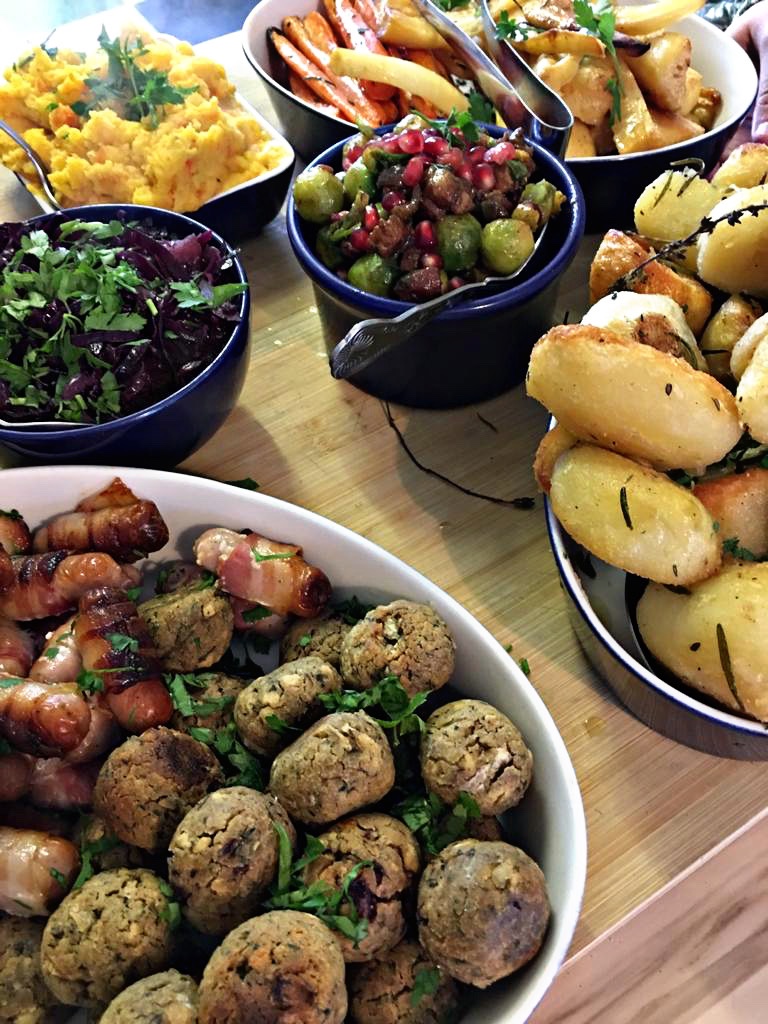 Is there a more important meal than Christmas dinner? It's the one time of the year when everyone pulls out all the stops, but it also creates so much pressure too when really it is just a glorified roast….. which most of us enjoy once a week anyway.
Let's begin with the table…. this year we had diner for five instead of ten due to the rules around gatherings and so we didn't have to pull out the wallpapering tables from the shed and ask guests to bring over extra chairs and rearrange the living room furniture. My kitchen table was just the right size for us all in its usual place and so I went a bit over the top decorating the shelves with garlands and making the window look beautiful with all of our crafts.
Our place setting stars were created by Arlo, hand stamped with our initials from terracotta clay, right back at the beginning of December and I fastened a bell to each star with a piece of red wool tied in to a bow. I don't know why I spent half an hour of my Christmas Day folding napkins, but it was fun to stand in the kitchen with the smell of the food roasting away and sing along to a Festive playlist.
I realised that we didn't have a "centrepiece" on Christmas Eve and this gave me undue stress – I've no idea why but I felt like I just had to have one and so I scrambled around the house to find some little bits and bobs lying around – eventually settling with pressing a little old wreath over a glass jar and then poking in some berries, draping over Arlo's star Garland and then balancing some of our gold leaf pinecones around on a board for good measure.
When it came to doing the Christmas food shop we decided to head to Aldi, I'd picked up a brochure a week before and literally every time I felt hungry I flicked through the pages and marvelled at all of the pictures. With four adults all off work we had plenty of time and know how between us to make things from scratch, I even bought cranberries with the best intentions but for a relaxed day and with such great value I bought almost everything pre-prepared. When it comes to starters we all have different tastes. Arlo's was delighted with us huge platter of fruit.
My absolute favourite starter is pâté – served with chutney, chunks of butter and a selection of crackers you can't go wrong. I ended up going back in the evening for more. My mum adores salmon and so we also served this to complete our trio of starters.
These did require a little bit of preparation, piling on crème fraîche to blinis and then decorating with fresh herbs and lemon. Like I said I bought everything in Aldi, and because the main foods were such great value, I didn't mind going and getting fresh herbs for everything to give that extra whack of flavour. Would you believe it if I told you that I got our potatoes, carrots, parsnips, swede and sprouts for less than £1? I love the super six offers!
One thing that makes life easy for us is Sharing the work. My mum cooked the turkey in her oven, stuffed with sausage meat and cooked upside down to begin with wrapped in foil to prevent the juices draining from the breast meat. Then flipped and draped with bacon to crisp up and left to rest for a good while before carving. This left us plenty of time to prepare the veg and make everything extra tasty. The pigs in blankets and stuffing balls we bought in pre prepared and so it was simply a case of popping them in the oven in the morning.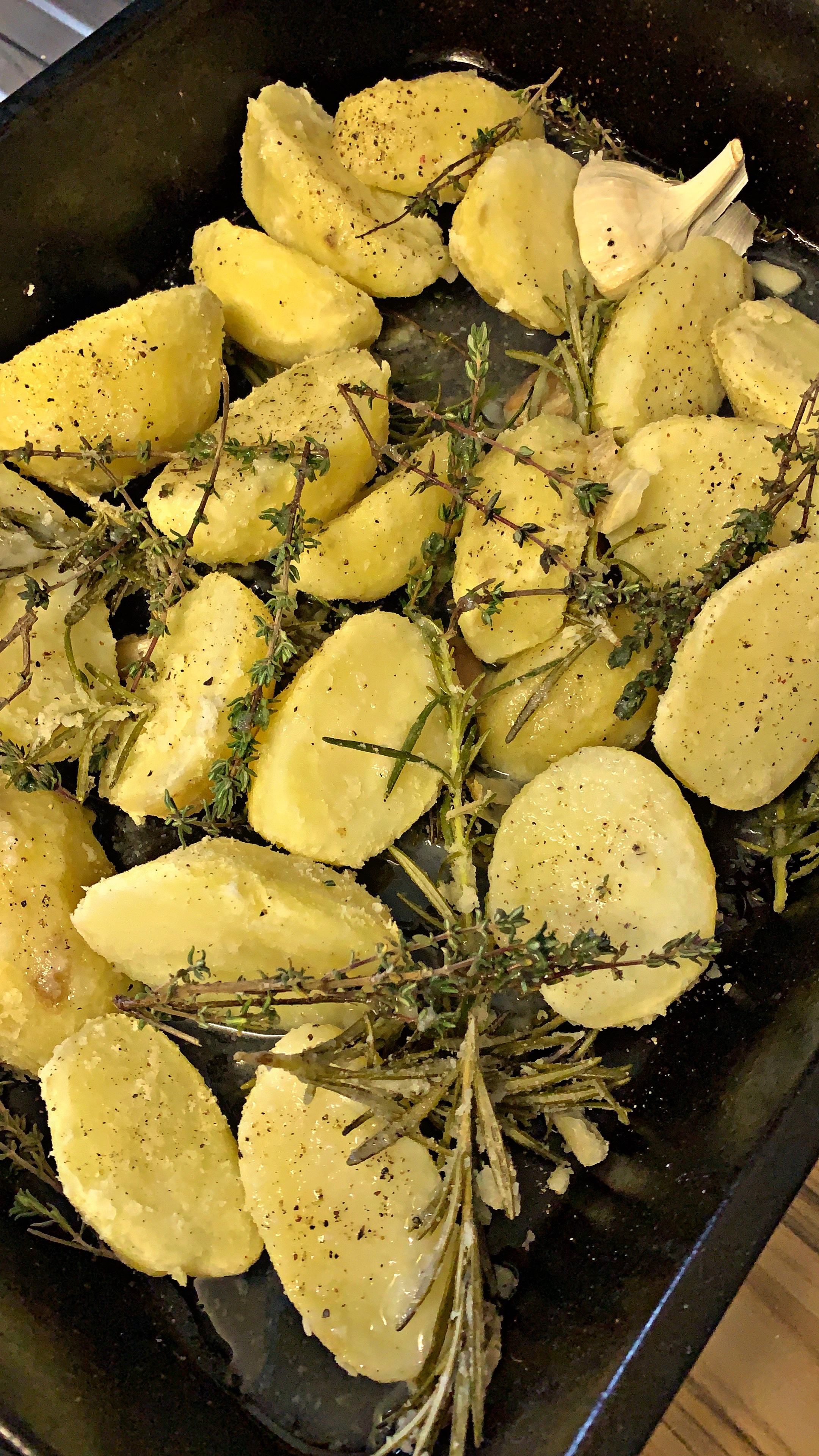 We sliced and prepared everything on Christmas Eve whilst Arlo played with a messy play tray we set up for him. The potatoes are the centre of everything, par boiled and then after you drain the water from the pan if you give the potatoes a good shake then it ruffles the edges which makes them go all crumbly and crispy. Throwing in fresh Rosemary and thyme and a couple of cloves or garlic works well, and because it's Christmas these get roasted in goose fat. Don't forget to season! We prepared ours just like this and left them in the fridge overnight in an air tight container, ready to go straight in the oven.
The carrots and parsnips were given the same kind of treatment – carrots sliced and sprinkled with thyme and also some fennel seeds as well as seasoning. The parsnips are a simpler affair – we like to drizzle these with honey but do this ten mins before they come out of the oven to avoid them getting burnt.
My red cabbage was made loosely following a Janie Oliver recipe – with bacon, red onion and sliced apple, all mixed in together in a saucepan on a low heat for a long time. I add in star anise to the pan too. I literally never have this any time other than Christmas and every year I question why but I never cook it any other time. Same as sprouts…. although this year was an exception.
The carrot and swede mash is one which can also be made in advance – boiled together and then smashed with lashings of butter and some seasoning – it's as simple as that. You can make this ahead and then microwave it to serve piping hot. The more butter you add the richer it is, and you can even add double cream too.
The sprouts get a similar treatment, pan fried with bacon and red onions but for an extra kick of flavour I like to add in pomegranate seeds. I don't know why but it just works and before I discovered these I hated sprouts but these I like to whip up and enjoy as a snack as soon as the sprouts begin to appear in the shops.
As a family we all like to serve ourselves and so everything gets served on big dishes with spoons so that we can dig in, we all pass around the plates and it's quite a busy affair, and then once people start eating silence descends where everyone is so busy enjoying the food. We all like to raise a glass and a toast wishing each other a merry Christmas and then just like that the meal ends with everyone saying they couldn't possibly squeeze any more food in.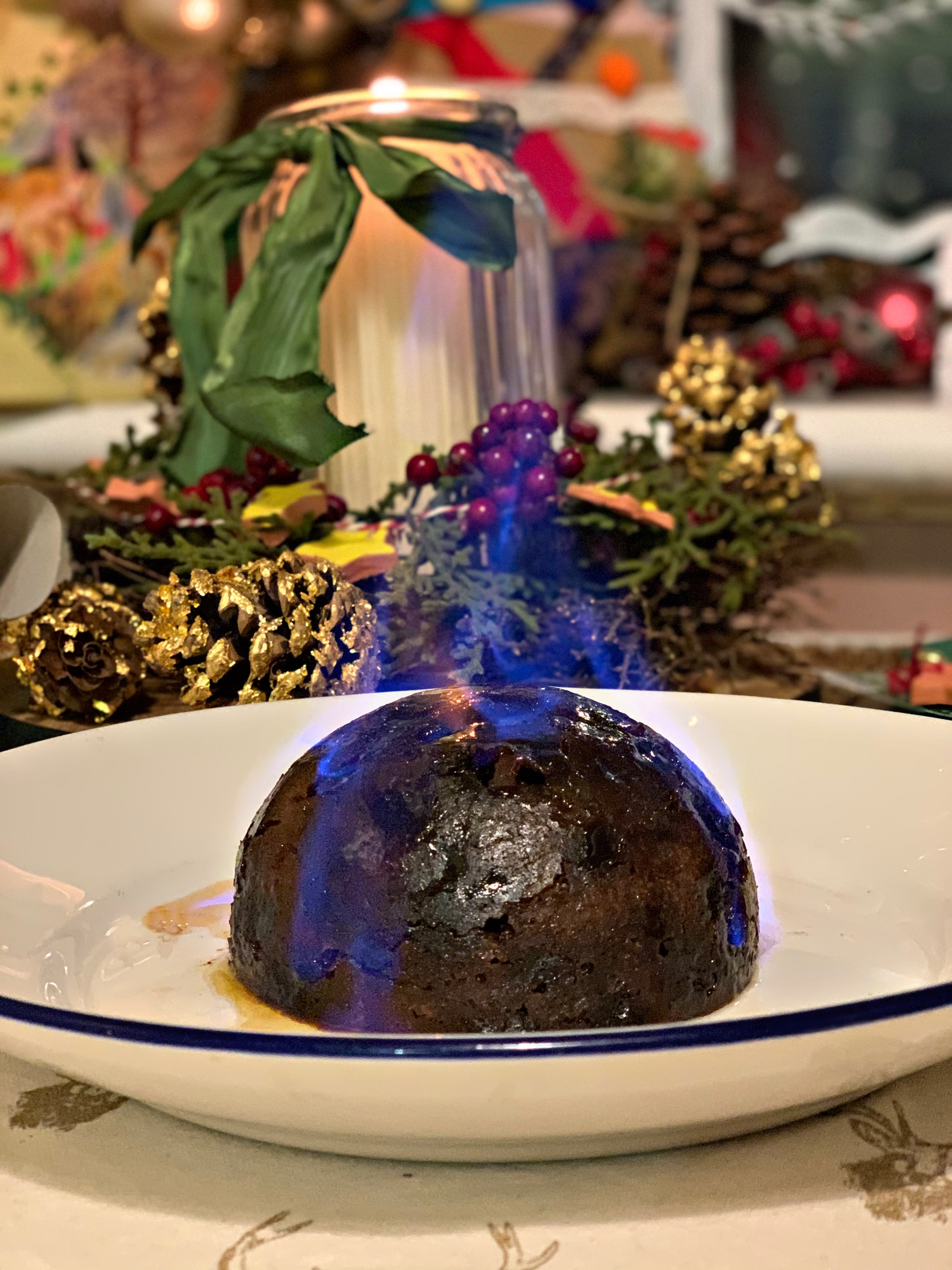 Christmas pudding comes along much later in the evening, we watched the new Disney movie "Soul" together before even contemplating more food and then it was fun trying to set this alight. The brandy wouldn't ignite at first and so we added more and more until "whoosh" – I'm not a fan of it myself and I prefer my snacks and savoury nibbles.
I threw together a grazing board for us all to share, with extra pigs in blankets, pate, crisps, olives and all sorts of other bits and bobs and despite the insistence after dinner than none of us could possibly manage another mouthful; the entire plate cleared and we had to top up the snacks several times. It did make a change this year having this rather relaxed evening as usually it's the time we invite the extended family and end up prepping a buffet for everyone with cold meats and crusty cobs and all the chutneys and cheeses.
This year I put all of the leftovers from Christmas dinner in to a pie dish…. stripping the turkey down to use some of the dark meat and then adding sprouts, stuffing, potatoes, carrots, parsnips and the last of the gravy before covering in a puff pastry. This was our Boxing Day dinner and we also sliced the breast meat for sandwiches too. The best thing account Christmas is the food.