This product was provided to us free of charge for the purposes of a review however all opinions are my own
Arlo loves playing in sand. We returned home from a week's break at the seaside to our parcel which had been delivered by courier from Big Game Hunters and I had to open it and set it up straight away because Arlo had clutched his bucket and space in the car the whole way home.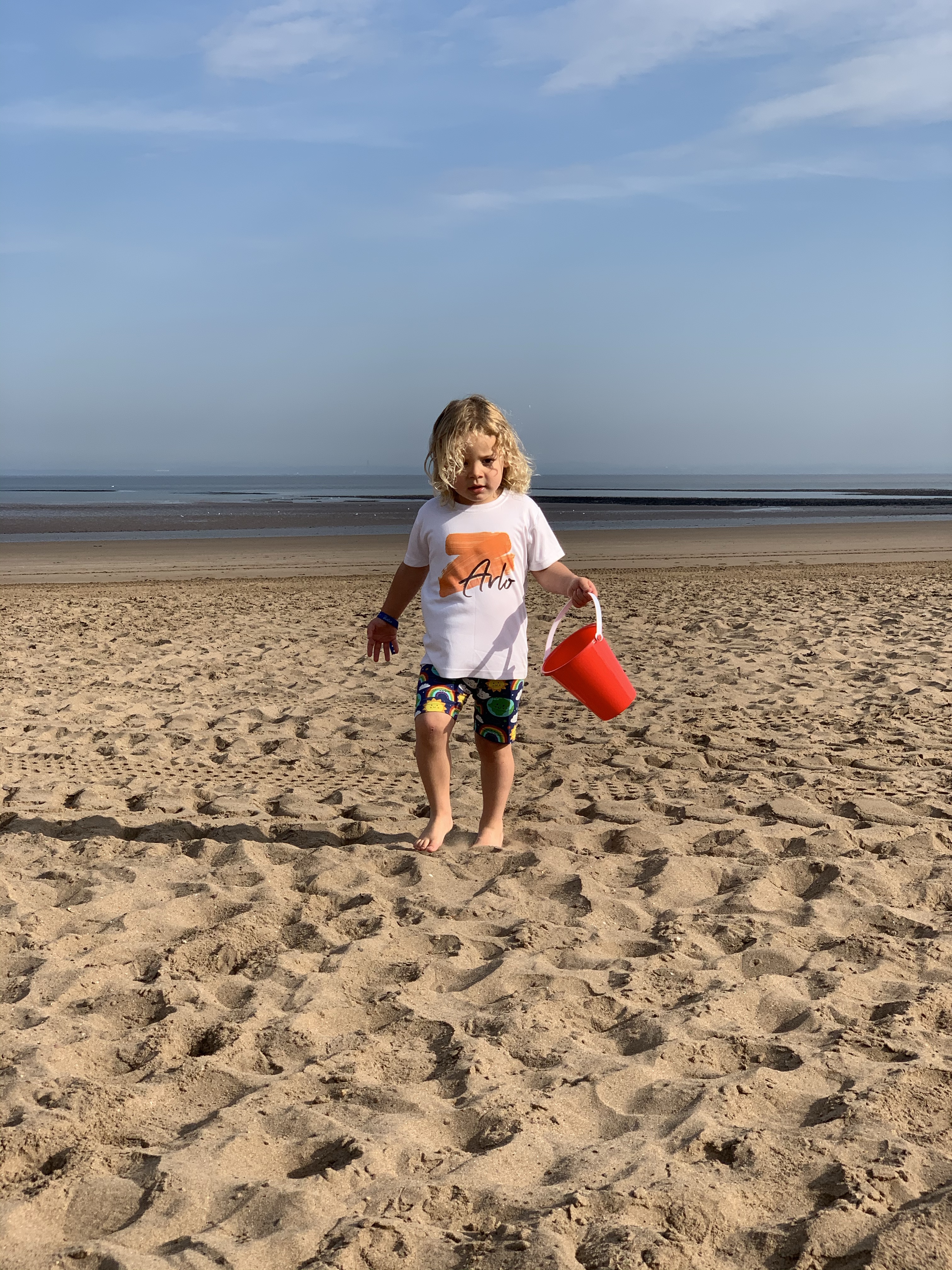 We were so lucky to be able to get away on a last minute beach holiday this year but most of our energy has been focused on making home a fun place to be and there's so many different ideas for play but a sandpit is a must have for the garden. At age three Arlo is becoming independent and had outgrown his smaller sandpits so at an impressive 1.8m x 1.8m this seemed like the solution for us. Check it out this and the huge range of sand pit options from Big Game Hunters here
I used eight 20kg bags of sand to fill it up which sounds like a lot but think of all the play options and castles you can build! We used our bucket and spade at first but quite quickly Arlo decided to fetch his collection of diggers and turn the sand pit in to an imaginary construction site.
One more plus is that being made from wood it looks beautiful and natural in our garden – which was starting to feel like the rainbow plastic of kids toys was taking over and for a more permanent toy feature it blends in extremely well.
It didn't take us long at all to put up, the sides slotted together in three layers like a 3D jigsaw and it was impossible to go wrong. I was able to do this on my own with Arlo "project managing" – I filmed a stop motion of us whilst I was doing this and you can check it out in our Instagram story highlights. The instructions were easy to follow and it didn't even take us an hour.
I used a power drill to complete the project – securing four pieces of wood to the corners with some screws which make the perfect bench seats and then attaching the base membrane. This is perhaps the best feature of the sandpit – I like most parents often have to rush in the house for meals, bath, bedtime etc and then I don't get round to tidying up the garden, so it's normal for things to be left out in the rain, and the membrane means that water doesn't collect in the sandpit but simply soaks through so the sand doesn't get ruined.
The sandpit does also includes a cover – this fits perfectly on to the pit, we stretch it across and balance heavy items on top of the corners to make sure it doesn't blow away. There's enough space to leave his toys underneath it and so even now that we're heading towards autumn, on a clear day we can peel the cover back and get stuck in. Most recently the sandpit has been a dinosaur swamp and an amphitheatre for a reproduction of the lion king with the addition of some other toys.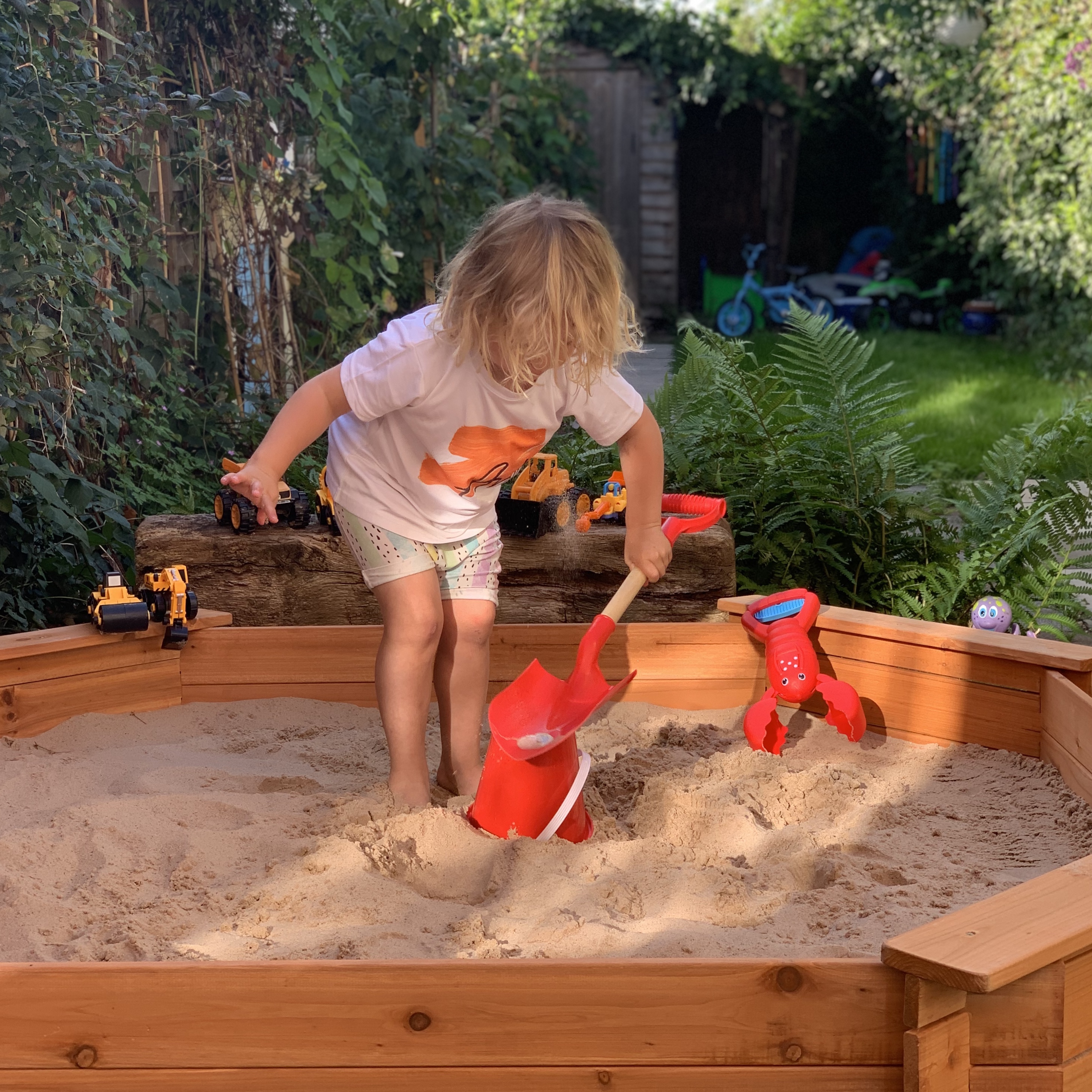 If you have the space in your garden then we highly recommend this, Arlo is aged three and his cousins aged 4, 6 and 8 have also been happy to join in too and there's plenty of space. I'm happy to perch on the corners and get stuck in too. There's nothing quite like the feeling of sand between your toes!
Tap on the image below to head to the Big Game Hunters website and find out more