I had to write about both Lulworth cove and Durdle Door together because you can use one car park transaction to visit both equally stunning destinations. We visited in April and decided to head to the cove first of all.
Lulworth cove is probably one of the busiest areas I have visited along any part of the UK coast line and it's no wonder why. A short walk from the car park takes you along past some picturesque cottages before you happen upon Lulworth cove. It's a white pebble beach cove with the most beautiful blue water imaginable.
We sat for quite some time here just soaking in the atmosphere and balancing pebbles together, this was after lunch and we noticed that the area seemed to calm down as people began to wander off to visit durdle door.
In terms of facilities, there is a visitor centre alongside the car park and there are some stores to buy the usual tourist essentials such as swimming trunks and flip flops as well as ice creams. We paused here for refreshments and to change from flip flops in to our walking shoes for the durdle door walk – which is no mean feat.
We jumped in the car to get to the closer car park rather than attempt the longer walk with Arlo and we left the push chair behind as we were advised that the terrain was fairly steep by the staff in the store.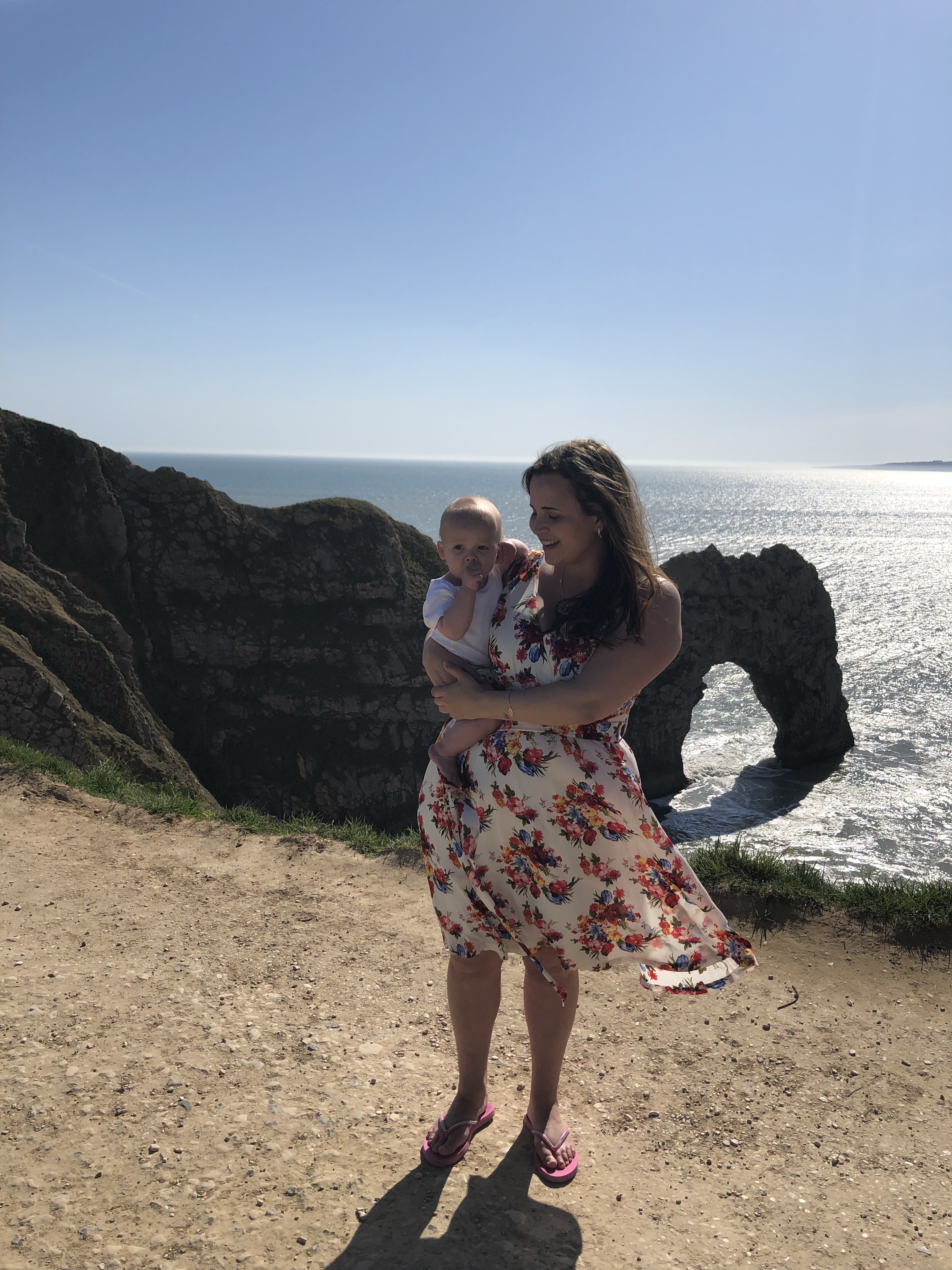 Durdle Door: The walk to the cliff top was long and not easy going but well worth the effort for the view and the pictures. At the time we visited we were unable to descend to the beach due to safety however this is on our "to do" list for next time.
This walk isn't a leisurely afternoon stroll and so if planning this with young children be sure to pack a rucksack with plenty of drinking water and supplies for the warm weather and take a sling for a baby – this is not suitable for anyone who doesn't have a head for heights.
The route we walked was extremely busy but when you get to the top you get the best view of the iconic Durdle Door which is a natural limestone arch.
There was a small kiosk at the top of the cliff however this was closed at the time we visited so as I mentioned – do make sure you pack water and snacks – the walk took us a good hour and then we sat at the top of the cliff to watch as the sun started to fade.