We had the most magical day aboard the Santa Special at the Severn Valley Railway, there's simply no better way to meet Santa in the Midlands!
We booked our tickets months ago because these are usually a sell out and opted to book a table for four of us. Myself, Arlo, Nanny and Grandad. There are also compartments available for families for up to six people – babies can sit on laps but they don't receive a gift from Santa. Steam trains alone are magical – but at Christmas it's like being on The Hogwarts Express in a Harry Potter movie!
Our heritage steam train was specially decorated with beautiful bunting throughout and each carriage was named for one of Santa's Reindeers, and was ready and waiting at the platform for a prompt departure. The station was just as spectacular too.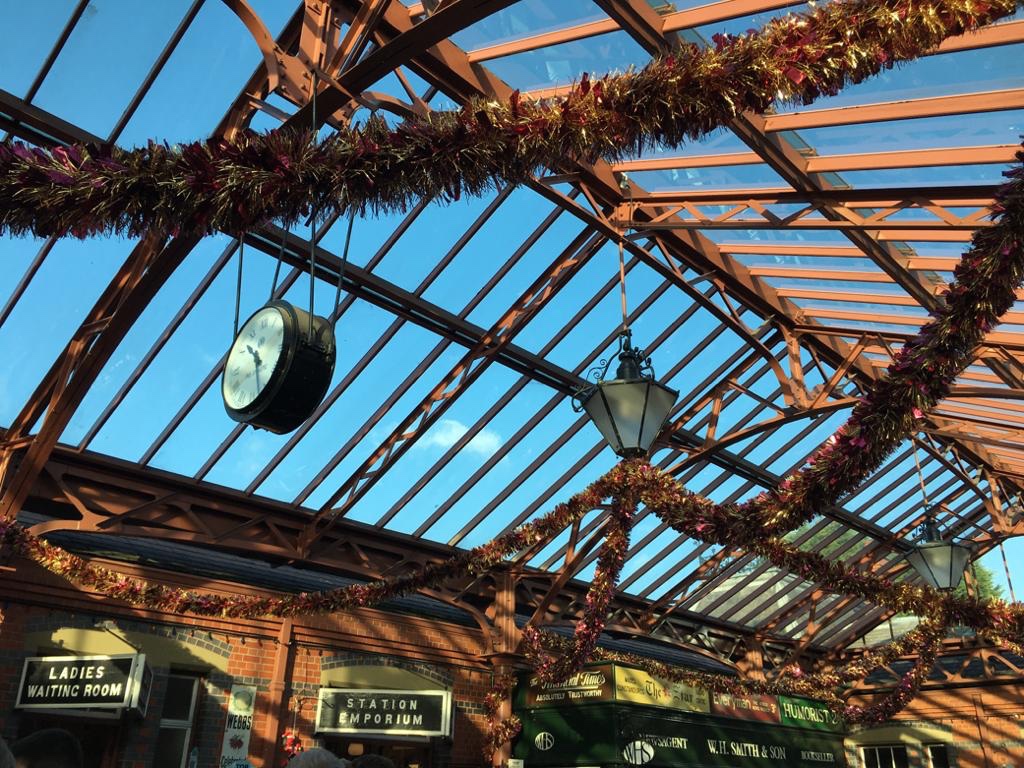 We chose to arrive almost an hour early to ensure that we could get a parking space – it's £4 for the day to park at the station. A brass band was playing, a miniature railway was running around a glorious tree and there so many wonderful original features around the station to look all beautifully decorated for Christmas.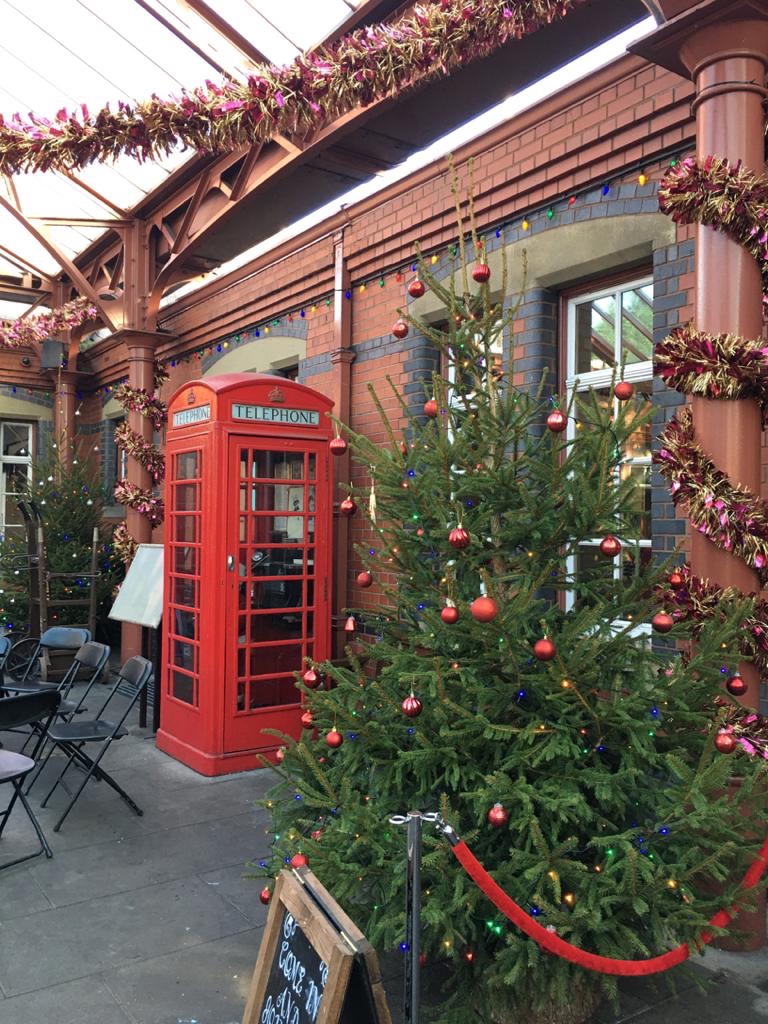 We browsed the gift shop, bought some traditional sweets for the journey and soaked up the buzzing atmosphere, and to make sure boarding was efficient, an MC announced four families names at a time to call them to board the train. We had just enough time to test out Santa's sleigh to make sure the cushions are comfy enough for the big man himself.
There was no rushing and everyone got a chance to enjoy the platform and board the train comfortably. The trains themselves are beautiful and well preserved. Grandad was delighted because they were just like he remembered trains as a child, with little details such as the door handles and window slides, and all of the original fixtures and fittings were "just like they used to be when I was a child " It was lovely for grandad to be able to share these memories with Arlo.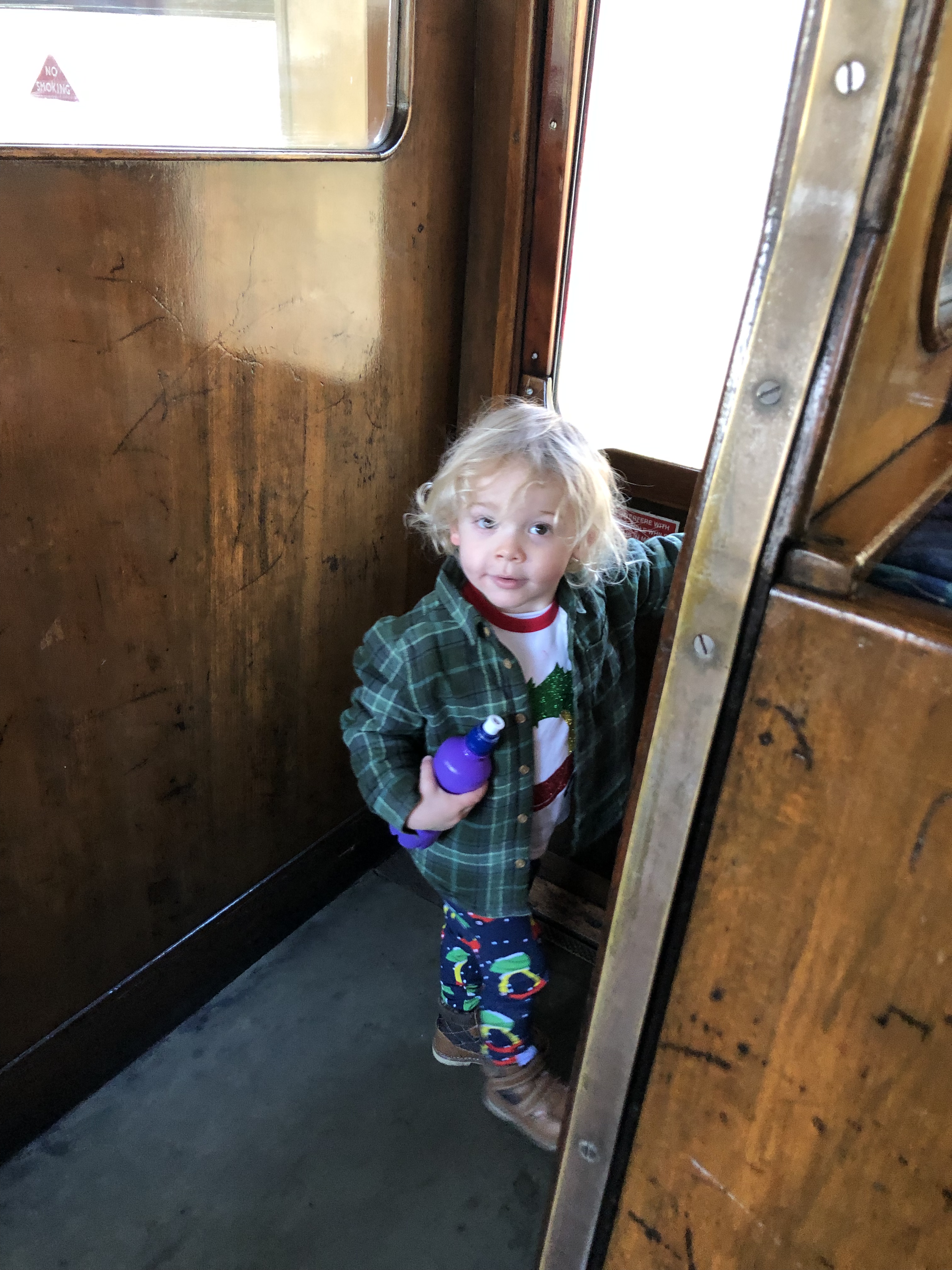 It was easy to find our reserved table and lovely to see a decorated biscuit and mince pies left out for us as well as a kids activity book and drink, we stashed our belongings in the overhead space, which was decorated with bunting and baubles along the entire length of the carriage and so we settled in for the journey.
Once everyone was on board we all heard bells ringing and got a glimpse of the big man himself walking along the platform to board the train accompanied by his elves and huge sacks full of toys! This little glimpse meant that all the children were reminded to be on their best behaviour.
The Railway takes you along the Severn Valley and there are some glorious views to be seen, especially on a crisp winter Morning, however the most delightful exclaims for the children came when we went past the elephant paddock at West Midlands Safari Park.
We visited the Safari Park yesterday and for some reason the stars aligned and we happened to be in the elephant paddock as the train went past which I captured on film, but today we were far to busy waving from the windows…. but you get the idea from the clip!
The Santa Special doesn't stop on the outward journey like it does for the usual timetable however there is an opportunity to leave the train at Bewdley on specific return trains to explore the village.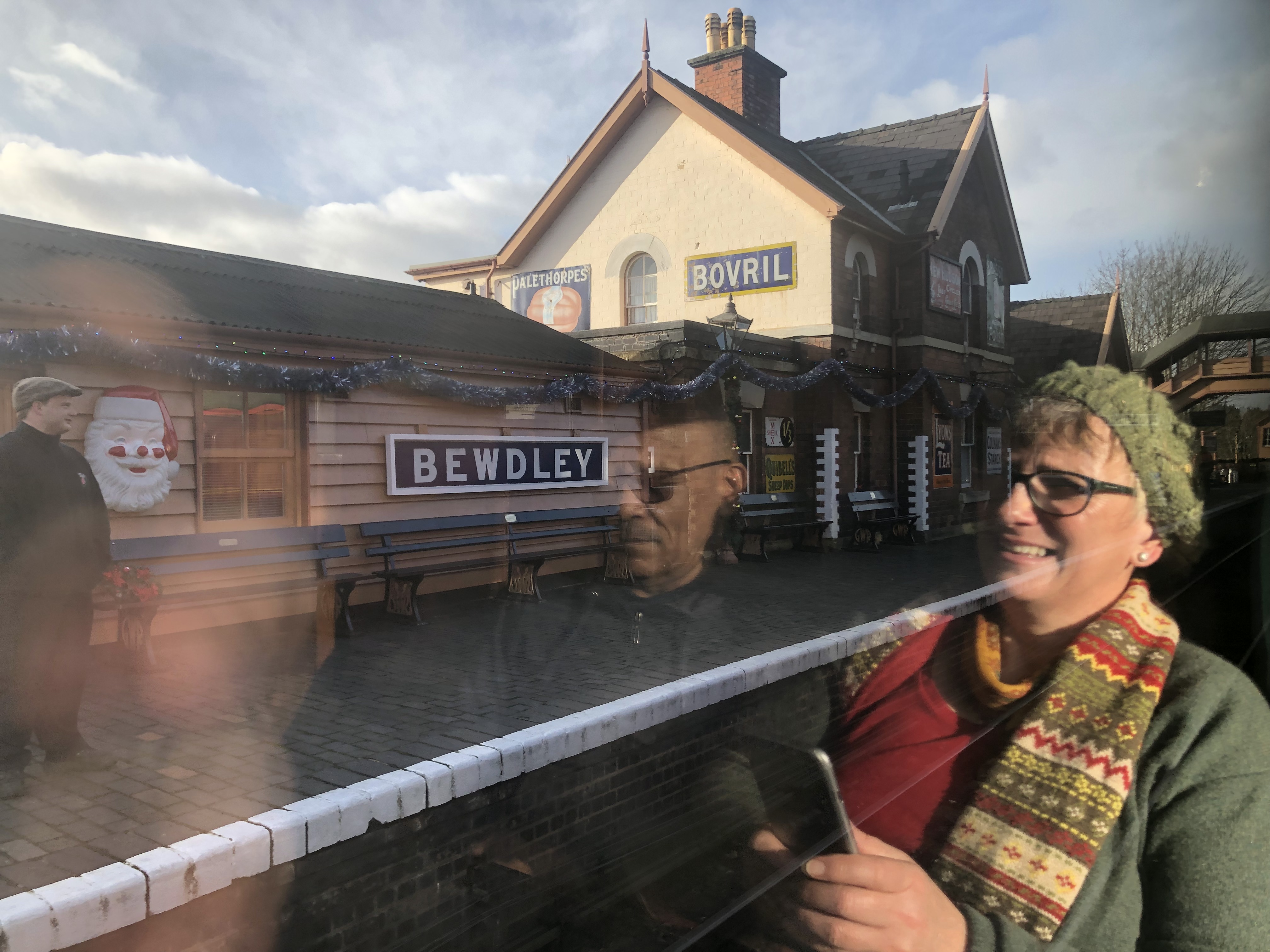 We went through all of the stations slowly enough to see all of the beautiful decorations and to be greeted by people just like in "the railway children" – we were content to watch the world go by and I packed a bag of toys to keep Arlo occupied on the journey. He was extremely well behaved and I think he has earnt his place on Santa's "nice" list.
This is the first year Arlo has been truly aware of Santa and Christmas and so this experience was magical for him, and just fabulous for me to see it all come to life as a parent.
Throughout the journey a lovely elf popped in and out of the carriage to remind us to listen out for Santa's bells and raise a chorus of jingle bells from all of the passengers every now and again, and we also encountered the drinks cart and enjoyed our complimentary hot chocolate (with an optional baileys tot for the adults).
A magician appeared almost out of nowhere and had us all intrigued as he managed to trick all the children by making coins appear and disappear, pencils appearing from behind ears and then turning tuppence into a pot of jam! No idea how he did that and all the grown ups were just as intrigued as the children.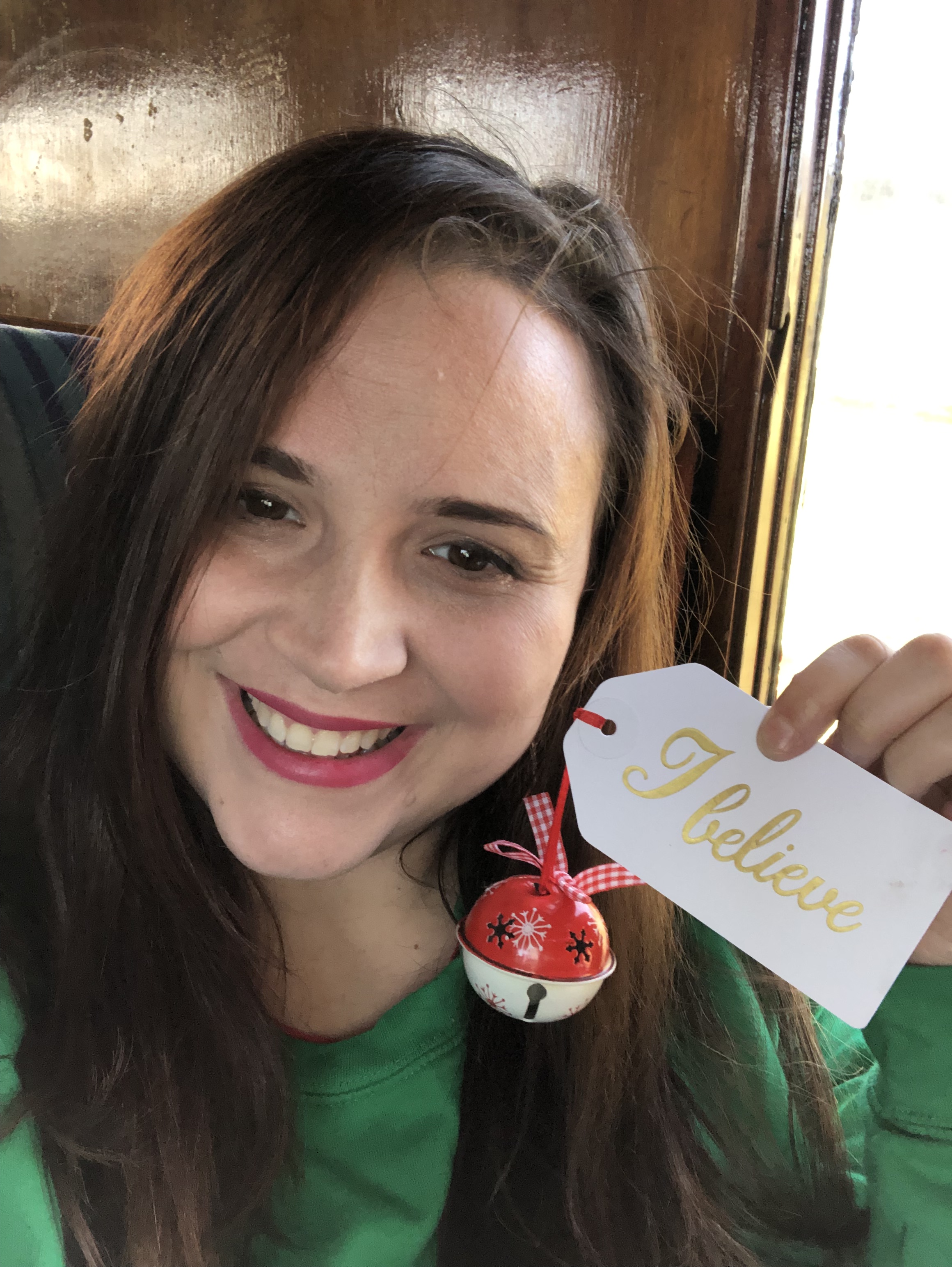 Suddenly we heard a knock at the end of the carriage and the sound of bells grew louder…. Santa's arrival was announced – he visited every group, taking the time to have a good conversation and Arlo waited patiently for his turn, leaning around the seats and waving his beloved sleigh bell for attention – and then amusing our carriage companions with his own rendition of jingle bells whilst everyone else waited patiently for their turn.
As soon as Santa arrived to greet us Arlo became overwhelmed and was a little bit shy however Santa was extremely patient and had a lovely manner, eventually finding common ground comparing their bell noises, and giving high fives before posing for pictures and then reaching into his sack to gift Arlo a beautiful leopard toy.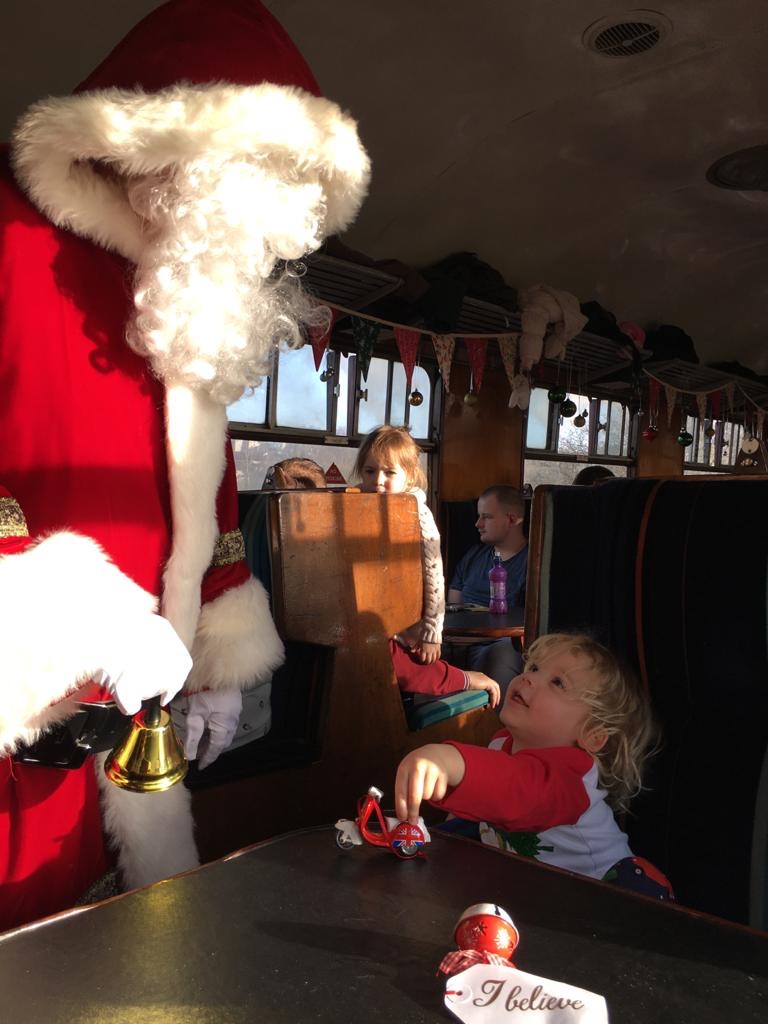 Santa's assistant also gifted us some unique tree decorations as a memento of our day, and the elves who were taking the responsibility for the toy sacks were friendly and chatty as they worked their way through the carriage too – Arlo was beyond excited and overwhelmed by the whole experience.
Before we knew it we arrived back at Kidderminster – Santa was happy to pose for a selfie in front of the steam engine with all of the children waiting and the driver blew steam and the whistle much to everyone's delight.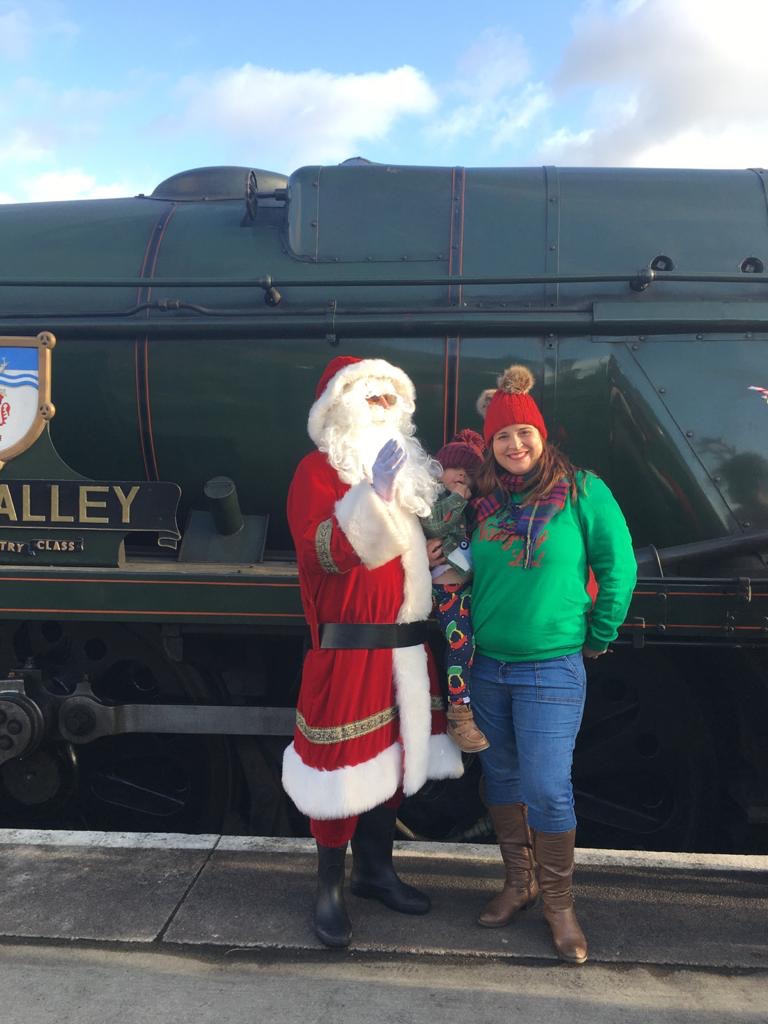 The smell of roasted chestnuts inside the station greeted us and we got the chance to soak up more of the festive atmosphere, check out the gift shop and meet the deputy Station Manager to give our positive feedback from our trip.
We had a wonderful morning and most certainly recommend this Santa Special to families across the West Midlands, we will be back to explore the railway and more stations in the summer!