There's a new cool, collectable line-up of mini-figures to be discovered with Action Heroes. Launching for Summer, let us introduce you to Actions Heroes.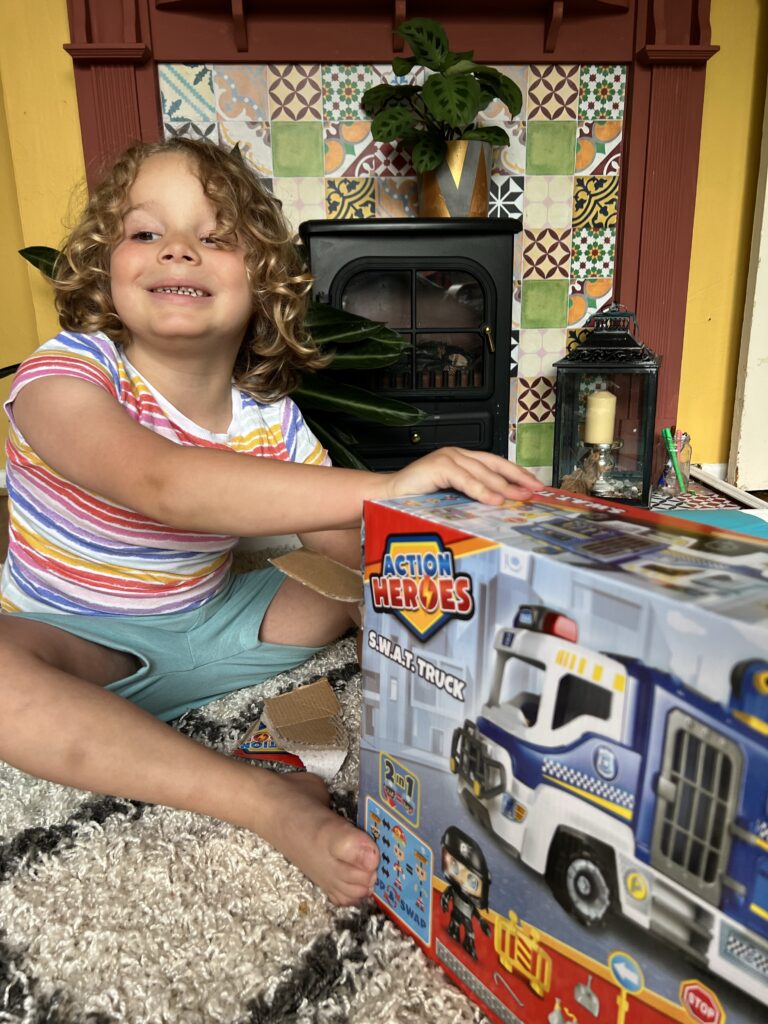 Arlo was sent out the Action Heroes Swat Truck which retails at £36.99 along with some smaller items from the range. He couldn't wait to get inside the packaging as soon as this arrived.
Arlo is very interested in super heroes and the police, especially since he got the chance to meet some really lovely police officers during the Common Wealth Games this summer. He's at the age now where he will play independently and invent his own little scenarios which seem more interesting than episodes of my favourite Dramas – I don't actually know where he gets his ideas!
The challenge I have had recently is trying to find toys like this which are appropriate for his age – (he's just going in to year one). We're at the stage where he has grown out of some of his pre-school sets which have now been donated. Toys which had one or two simple features just don't engage him, yet others I have been looking at seemed a bit too grown up with more complex parts and set ups requiring assistance. Action heroes has been designed and created specifically with this transitional age group in mind.
The Action Heroes Swat Truck box contents
1x Police S.W.A.T Truck, 1x Action Heroes Policeman Figure, 23x accessories (Shield, 2x Weapons, Money Bag, Bomb, Dynamite, Handcuffs, Road Spikes, Crowbar, 2x Traffic Signs, 2x Traffic Fences, Drone, Remote Control, Computer with antenna, 4x Traffic Cones, Robot, Megaphone)
The unboxing and set up experience kept us busy for over an hour. The vehicle was included along with a character, a sticker sheet and a huge bag of bits plus a set of instructions which was image led and clear enough for Arlo to take the lead with.
The first thing Arlo did was actually to just play with the truck as it came. Lifting up flaps and exploring all of the different doors created a little bit of excitement. There is a fabulous jail cell at the back of this truck for "bad guys." He had his hands on the action figures and started placing them in different compartments and hadn't even realised there was a huge bag of accessories at first.
There were lots of accessories which came with this Action Heroes Swat Truck and my first thought was "oh noooo" – small parts always get lost in our house and then I have to spend hours looking for loose parts which Arlo insists are essential. Once he spotted the bag he burst it open and was kept busy for a long time trying to work out exactly where everything went.
There were little doors for all of the police armoury and then he found a secret compartment which made me very happy! There's a drawer which pulls out from under the rear bumper which is as long as the whole truck and is a great storage solution.
Arlo was able to set up most of the pieces independently by following the pictorial instructions and also by double checking against the images on the main box. Again he was so busy with this that it took him a while to realise that he had stickers. I don't know what it is about kids and stickers but these kind of additions to toys are always a hit. I can imagine lots of families will be stickering their SWAT trucks after Xmas dinner this year.
Arlo did need a little bit of help with the stickers – just because he couldn't quite understand that the opposite sides were basically the same without a specific picture to show the truck from all angles, but we got there in the end. Then he was ready to go and catch all the bad guys!
We received a couple of packs of different characters with our delivery and these were all inclusive of their own accessories. We had a two pack with a hero and sports person plus six mini accessories and a policeman figure with Segway plus a dog and truncheon. I think our footballer had to take on the unfortunate bad guy roll in this instance.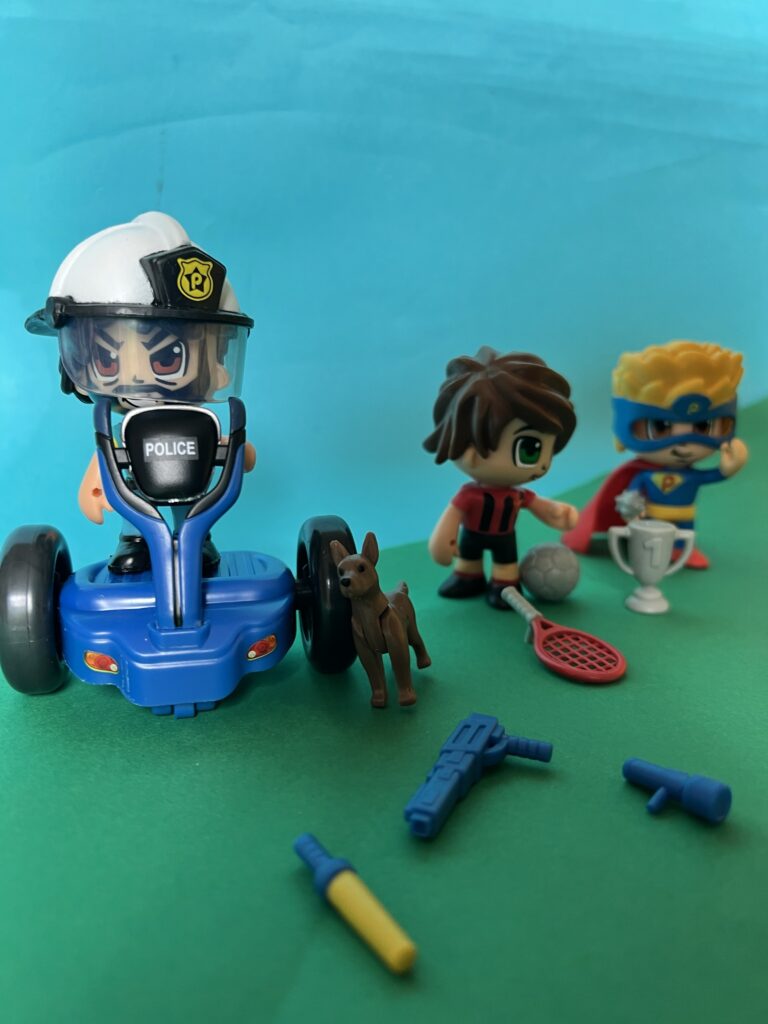 These interchangeable figures have pop and swap head and body pieces, and double-sided faces with different expressions. Children can mix and match the pieces to create new combinations; the more figures they collect, the more characters they can create. Arlo enjoyed this aspect especially. The figures are a lovely size – about 7cm tall and fairly robust which makes them easy for little hands to grasp and pop.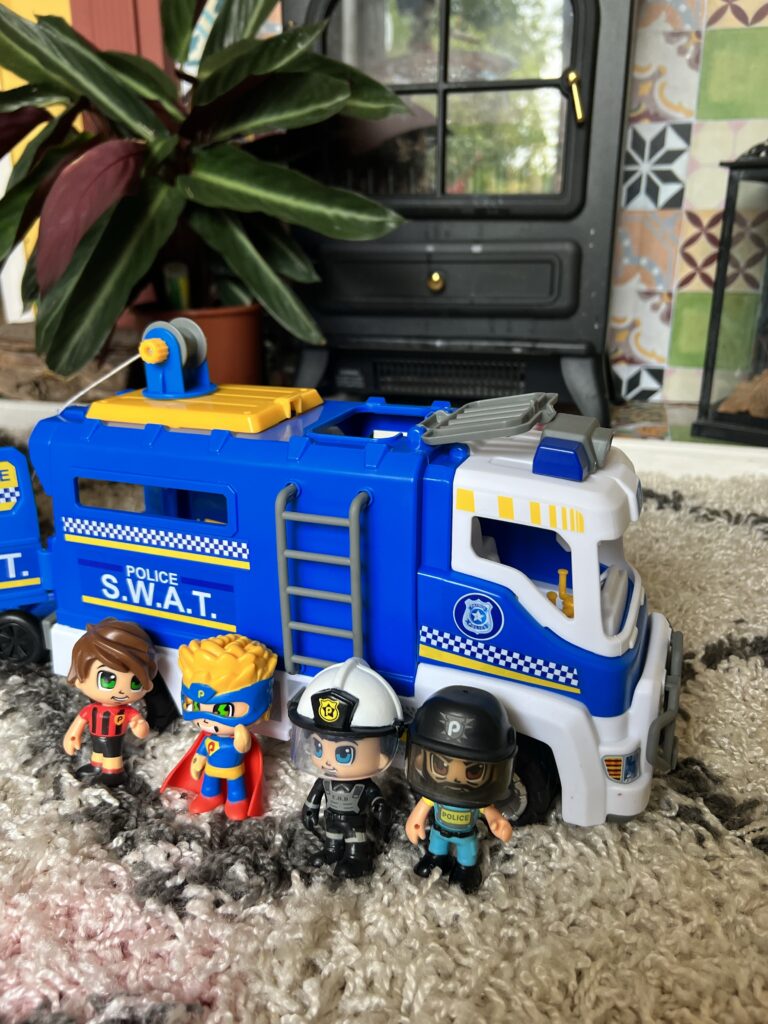 With playsets and action vehicles also available in the range, collectors can build their own Action Heroes world. There are two themes to collect, which bring the excitement of the police force and the awe-inspiring era of dinosaurs to the fore. Storytelling is central to the play pattern of this fun, action-packed range. I love this aspect because as a parent one thing we are always asked is if we have any ideas for Xmas and birthday gifts. I will happily tell family and friends that he loves this range and there are bound to be items which will meet all budgets.
We actually got the chance to see more of the range at BlogOn Kids. Arlo made a beeline for the display as he recognised the familiar characters and was delighted to find out that the dinosaurs could also be popped and swapped too.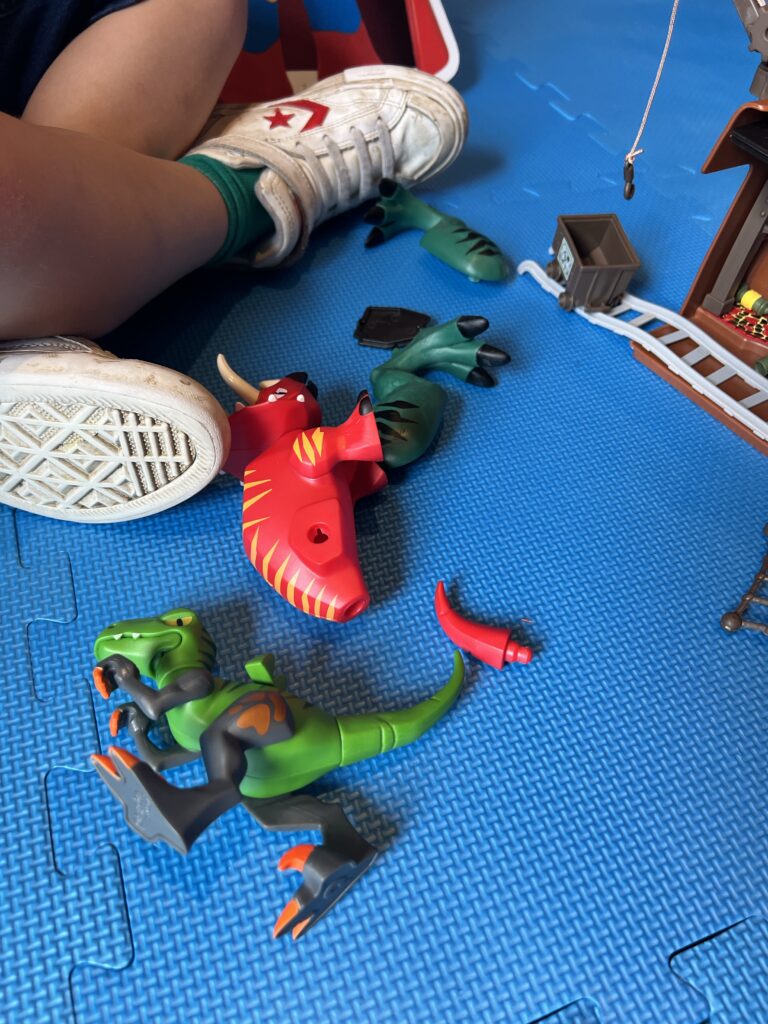 We will certainly be adding more of this range to our collection at home in the very near future. Very impressed and one of the most enjoyable toys we have had the chance to review this year, so we will be adding the Action Heroes range to our Christmas gift guides.